Stories
In their own words, people with lived- experience share their stories with you. Enjoy.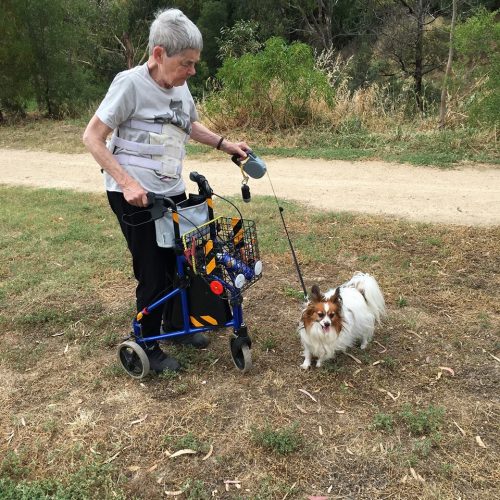 Let's get the morning talk stuff over first. - the ME/I/ME Stuff.
I'm in my 70's - have severe scoliosis, rheumatoid & osteo arthritis. Rheumatoid = Fatigue as well as joint pain. Did have surgery for the spine - got golden staph through the screws inserted on one side. They had to be removed. The spine has not fused or stabilised. The scoliosis is still progressing.
I don't take opioids - do pain management through physio & meditation. Thanks to the marvelous people at Barbara Walker Pain Management Clinic at St. Vincent's Melbourne I have a life. I use a walker for mobility. Husband Barry is 80 and is the chauffeur for all activities. I no longer drive - tremor in the right leg.
The chemical release from a reward cascade works well for pain management. To get one is to push the body hard to achieve an end result a K9 Circus full of laughs.
I wear a cap with my name on it - it does help. Sometimes residents DO look up to see whose holding the leads!
I'm a dog behaviourist and still train dogs. I founded Geelong U3A Dog Handling Skills Class with the assistance of the amazing Loretta Winlea who was in charge of enrolments.
We have nearly 30 people training now at Geelong.
Netta, who used to be a palliative care nurse is always there to run modified training for anyone who needs it.
I instruct from my walker.
I volunteer 4 mornings per week at 3 aged care facilities in the Moorabool Shire - Grant Lodge, Providence & Ballan.
I offer K9 Circus with two amazing Papillons.
Dogs empower people in aged care. Dogs who do their OWN thing rather than the OWNER'S thing delight. It's such a regimented life in a residence. Laughter is food for the soul.
Today, off to Melton West Kinder to perform for the kids. Melton West Kinder & Grant Lodge are strongly linked - the dogs are part of the bonding process for intergenerational fun!!
My hours are odd - after lunch I rest, do physio & meditate. The dogs need to be trained, exercised & groomed - shower and usually in bed by 8/00pm
Sitting or lying down for any length of time is not possible.
I write book reviews, poetry, create activities frameworks to be used in aged care facilities, play the Reverie Harp.
Carpe Diem
Robyn Youl