Stories
In their own words, people with lived- experience share their stories with you. Enjoy.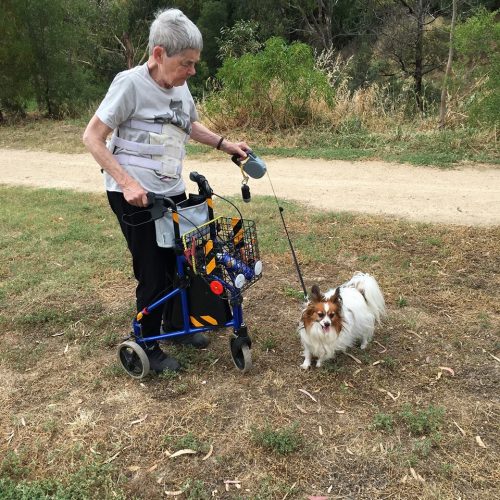 Let's get the morning talk stuff over first. - the ME/I/ME Stuff.
I'm in my 70's - have severe scoliosis, rheumatoid & osteo arthritis. Rheumatoid = Fatigue as well as joint pain. Did have surgery for the spine - got golden staph through the screws inserted on one side. They had to be removed. The spine has not fused or stabilised. The scoliosis is still progressing.
I don't take opioids - do pain management through physio & meditation. Thanks to the marvelous people at Barbara Walker Pain Management Clinic at St. Vincent's Melbourne I have a life. I use a walker for mobility. Husband Barry is 80 and is the chauffeur for all activities. I no longer drive - tremor in the right leg.
The chemical release from a reward cascade works well for pain management. To get one is to push the body hard to achieve an end result a K9 Circus full of laughs.
I wear a cap with my name on it - it does help. Sometimes residents DO look up to see whose holding the leads!
I'm a dog behaviourist and still train dogs. I founded Geelong U3A Dog Handling Skills Class with the assistance of the amazing Loretta Winlea who was in charge of enrolments.
We have nearly 30 people training now at Geelong.
Netta, who used to be a palliative care nurse is always there to run modified training for anyone who needs it.
I instruct from my walker.
I volunteer 4 mornings per week at 3 aged care facilities in the Moorabool Shire - Grant Lodge, Providence & Ballan.
I offer K9 Circus with two amazing Papillons.
Dogs empower people in aged care. Dogs who do their OWN thing rather than the OWNER'S thing delight. It's such a regimented life in a residence. Laughter is food for the soul.
Today, off to Melton West Kinder to perform for the kids. Melton West Kinder & Grant Lodge are strongly linked - the dogs are part of the bonding process for intergenerational fun!!
My hours are odd - after lunch I rest, do physio & meditate. The dogs need to be trained, exercised & groomed - shower and usually in bed by 8/00pm
Sitting or lying down for any length of time is not possible.
I write book reviews, poetry, create activities frameworks to be used in aged care facilities, play the Reverie Harp.
Carpe Diem
Robyn Youl

"I need to be seen as a person - not a disability``
I originally became involved in volunteering in order to gain skills and experiences to get a job, which I've done. Now it's about trying to get other people to have similar experiences; trying to create more social equity and employment opportunities.
I hang on every word people say in our first conversation. I have a background in literature, journalism and sociology and if they first talk about my interests and background, rather than just about my visual impairment, I feel comfortable with them.
When first speaking with a volunteer, you could ask ``Would you like to say anything to the staff on your first day about what assistance you need or don't need? What strategies would you like us to use to communicate with the organisation?" It's about having a chat about boundaries and expectations, and it's always better to ask than not to ask. The way and why you ask is what matters the most. Some people aren't confident talking about their disability and assistance needs, but others would prefer to talk about it so others can engage and have an understanding.
If you want to talk to someone with a disability and build respectful communication, find things to discuss first to build a rapport and remember not to make assumptions.
Captain of the Hawks Blind AFL team
About 18 months ago, the AFL were looking for participants to do testing in Blind AFL. I put my name down, and thought I'd just be on a list for information. They contacted me and said, "You're in"! The difference with this and other volunteering experiences is that this whole team was set up to actively remove barriers, and to create adaptations for people with low vision. In this environment, we're flourishing in ways we never knew we could.
As Captain, I helped get it up and running. Being Captain is about nurturing the team and organising them and being mindful of the players. The number one rule of AFL Blind is about participation.
This example of the Blind AFL league is all about illustrating that as people with disability, we are capable of so many things. Even things we didn't know about! I never thought 18 months later I would be leading a footy team full of blokes!
Building Cultural Safety
If you've got a disability, it's about feeling safe to be who you are as a person. You're coming in and you're different. I realise that I might be the first person they've come across with significant low vision. I know it's been quite confronting for some people, because I've had to say bluntly to them, "I'm right, I can do this." It's important that people with disability are given the space to do what they can for themselves. If other people start doing things for you, everyone observes that and repeats that behaviour. I'm always trying to walk that tightrope of being diplomatic and still being clear about what I can do and I what I need.
People with disability will do things differently from others – it's not right or wrong, just different. Sometimes being over-helpful doesn't help at all – it can be frustrating.
If your organisations are actively removing barriers for people with disability, they can achieve even more. It's good to see people with disability trying things, because that changes the way we see their capabilities. But that doesn't mean we should go for that false inspiration. I recently heard a young girl say something on the radio that stuck with me. She said, "Are people with disability inspiring because of their disability? Or are they inspiring because they're going to affect change? Because they're demonstrating possibilities and leading change in society?"
Be inspired by the person, not the disability.
Melanie Edge is a Communications Officer with the Department of Health and Human Services, working there for nine years. Melanie is also Captain of the first Hawthorn Blind AFL team. Melanie is also part of the Victoria ALIVE Project Advisory Group.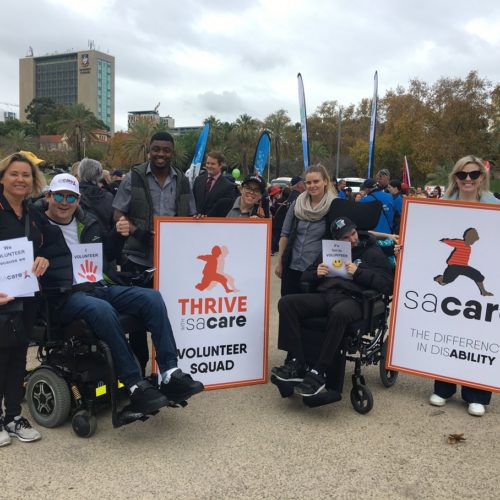 SACARE is a South Australian, family-owned provider of world-class housing and support services for people living with disability. We believe that every person should have access to the very best services, accommodation, and programs, and one such program that we offer is our newly launched "THRIVE by Volunteering" program.
When a majority of your life is absorbed with therapies and health appointments, it can be easy for those with a disability to find themselves removed from the world around them, feeling purposeless. SACARE understand this and have recognized the need to offer programs to the people we support that will enrich their lives and give them purpose.
"THRIVE by Volunteering" is aimed at re-connecting our clients to the community by being a valued volunteer. By spending time with our clients we gather information on their interests, skills and passions, and then look for ways these can be matched with genuine need in the community. Once a match is made, our program is designed to support the person with disability in the volunteering role, and to facilitate any spin off opportunities that might arise.
• "THRIVE by Volunteering " EXAMPLES:
As a past volunteer with Meals on Wheels, Quan was very keen to get back into volunteering, something he hadn't done since his accident. Quan has recently started to do a food rescue at a local bakery and deliver it to a Foodbank that SACARE support, Food for the Community. Once a week, Quan with his Thrive assistant Callum, go to Bakers Delight and collect bags of unsold goods. These items are then dropped at Queenstown where they are warmly welcomed, ready for distribution to the needy.
• Another "THRIVE by Volunteering" participant has recently started public speaking in a volunteer capacity, and her end goal is to do this in a professional capacity. Recently Terri shared her remarkable story of live for life and inspiration at a community women's group and is keen to do more. SACARE are supporting Terri to do this by finding speaking opportunities and new community connections.
Both volunteers have reflected how good it is to get out into the community doing something of need and value. Not just "existing" but "engaging with life".
By Helen Neale – SACARE Thrive Team – Volunteer Program